Blackbook+ is a FREE personalised alert service.
ADD your favourite runners to your Blackbook+ and you'll never miss a winner!
You can also link runners to specific form parameters.
Once you have a runner in your Blackbook+ we'll notify you when its about to race.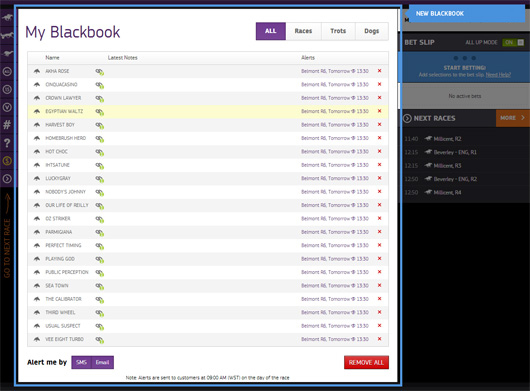 Log on
Firstly you must Log on to Tabtouch.com.au.

Adding to your Blackbook+
On the race page you will see a Blackbook+ icon on the left of the runners name.
Click the icon and then simply click on the runners name in the pop up menu to confirm and we will add it to your Blackbook+.

Connect runners to form
In the account dropdown menu you will see the Blackbook+ icon.
If you see a RED circle with a number in it this will indicate how many of your Blackbook+ runners are about to race.
Click on the Blackbook+ menu item to view.

Editing your Blackbook
Once a runner is in Your Blackbook+ you can CONNECT it to form parameters.
Click on the runners name and you will be offered drop down form options, that connect with your runner.
That way if you only like a runner over a certain distance we will only alert you when the runner is about to race matched with that parameter.
You can choose how you want to receive your alerts either SMS or email.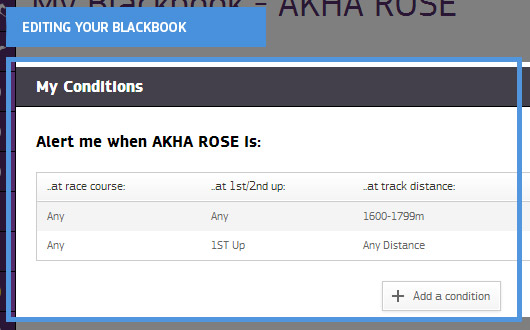 Notes
You can also add your own notes to Blackbook+ so you can remember why the runner caught your eye. Remember that your email and / or your Mobile number need to be correct (check My Preferences in account menu) to make sure you get your alerts.