Race Hub Menu
The HUB is a one stop shop for your race day information.
There are 4 HUB's to choose from!
Thoroughbred, Harness or Greyhounds and All Racing view.
Race Hub
The HUB gives you links to results, races start times, meetings, tips, scratchings and jackpots.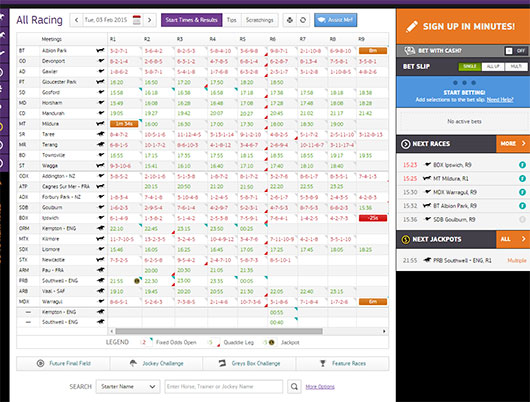 Search function
There is also a search function so you can find that tip your mate told you about!

Calendar
Easy to use Calendar to select today's, past or future loaded meetings.

Links in HUB
All the information in the HUB is a link and design to get you to where you want to be quickly. Check out the legend to get the most out of this page.

About to jump
A count down alert will appear when a race is getting close to jumping. Just click and you go straight to the betting page.

Jackpot + pop up
The Jackpot icon indicates a Jackpot is available for that race. Click through to the race to see which bet type has the Jackpot icon – either Quniella, Exacta, Trifecta and/or Double.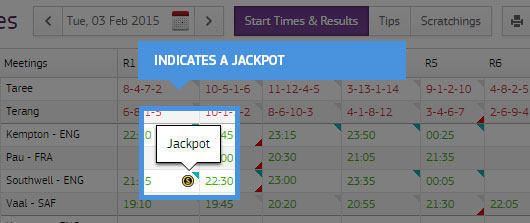 Scroll bar
If the HUB has more than 10 races in a meeting a scroll bar will appear. It will allow you to move to your race information and still be easy to read.