Navigation Menu
The left hand product menu allows you to choose which betting products you would like to bet on. You can then click and go straight to your choice.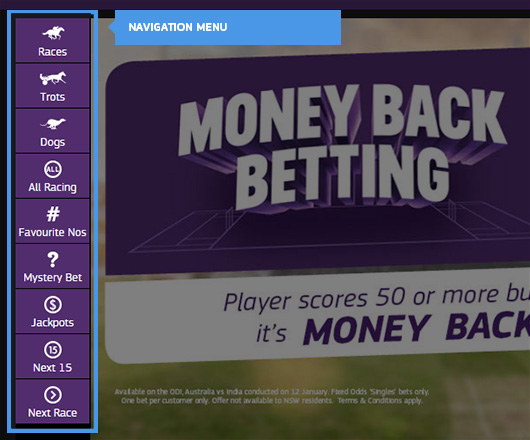 Racing/Sports Mode
You can move easily between racing and sports betting by clicking the RACING or SPORTS button located in the header.

Global Navigation
Accessible from all TABtouch pages are the Blog, Results, Media and Help links. The Blog is a hub for all the latest tips, and event details. From the results link you can find the results from any meeting or sport that had a TABtouch market. You will need to be logged in to TABtouch to view the Sky vision, in the Media centre.

Log in/Sign up
Log in to your account to start placing bets online or sign up in 3 easy steps and start betting within minutes.

Logged into your Account
Once logged into your TABtouch account, your account details will be visible. Your balance will show unless you  choose to hide it. To top up your account either click the shortcut "Deposit" button or go to the dropdown menu.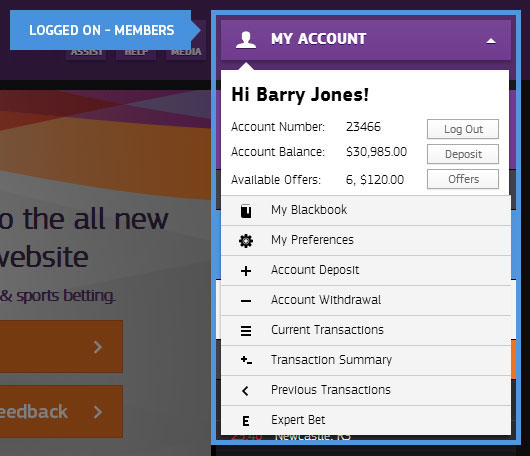 Bet Slip
Once you have selected a bet it will appear here in the bet slip. The new bet slip will allow you to have more than one bet at a time. The blue bar above your bets will step you through the 3 step betting process.

Next 5 Races/Jackpots
The Next menus allows quick access to the next events to jump and the next jackpots. It's quick and easy. If the time is in red you need to be quick as the event is within 3 minutes of starting.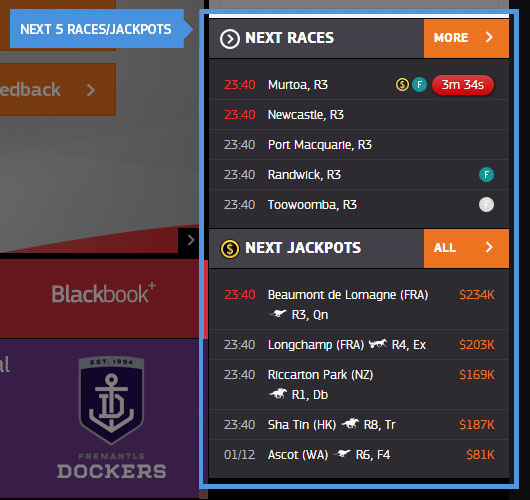 Features
The feature panel provides quick access to information, events and features! Check out our Blackbook feature by clicking the Blackbook panel.
Footer
The footer offers more important links to locations on TABtouch and our affiliates. You can also find our social media profiles in case you want to follow us and contact details if you need to speak to us about anything else.